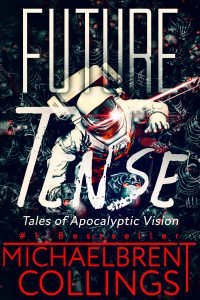 FUTURE TENSE: Tales of Apocalyptic Vision
NOW AVAILABLE at
Amazon US * Amazon Canada  * Amazon UK * Amazon Australia * Amazon Germany * Amazon Netherlands * Amazon India * Amazon France
Worldwide bestseller and master of terror Michaelbrent Collings invites you to peer into the future, to uncover things long hidden, and to experience worlds of a Future Tense…

A world where suicide is illegal – unless you agree to kill yourself over and over again…

"A must-read!" – Readers' Favorite

A place where childhood games turn back the clock – and bring with them monsters long forgotten…

"Collings delivers another excellent read!" – The Reading Nook

A home where secrets abound – until the killing begins…

"Spectacular!" – Char's Horror Corner

A reality where a writer's dreams can make her rich – if she's willing to sacrifice the universe…

"A delight." – The Avid Reader

All these, and more: stories of darkness and of light.

Stories of despair, and lingering hope.

"Readers are in for a treat with Future Tense!" – Rae's Reading Lounge

Stories of a future unknown, where ignorance feeds our souls, and where the only hope that remains in a world gone dim… resides in Tales of Apocalyptic Vision!

Michaelbrent Collings, a double Bram Stoker Award finalist and voted one of the Top 100 All-Time Greatest Horror Writers by Ranker, invites you to brave a future unlike any you have experienced. Because the future is what we make of it… and we have made a monster.
Get your copy TODAY!
Amazon US * Amazon Canada  * Amazon UK * Amazon Australia * Amazon Germany * Amazon Netherlands * Amazon India * Amazon France
Grab a free book while you're here!
Just sign up and I'll send you a few freebies right away!
Become one of Michaelbrent's Minions for access to exclusive deals and freebies!
Series and short fiction by MbC
Below are some of Michaelbrent's bestselling series and short fiction. Whether you're looking for Legion, Sword, zombies, or love at the Baxter homestead... you've come to the right place!