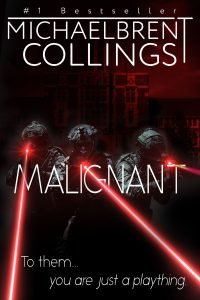 NOW AVAILABLE on Amazon!
"I want your whole group to come closer, Detective. So you can see."
"Fine. And if we don't?"
"Then I execute the first ten students, and one every minute after that.
  I bet you run out of resolve before I run out of hostages."
___

When armed commandos storm an elite boarding school, the police think it's a plot for ransom, or an attempt to extort favors from the teens' powerful parents.

But the men, led by a killer who calls himself ''Teacher," have much darker plans in mind.

Teacher intends to give a lesson unlike any taught before. A lesson written on flesh. A lesson inked in blood.
A lesson about monsters.

The bell has been rung, the lesson begun. And the lesson is this:

The monsters are real, and to them… you are just a plaything
Worldwide bestseller and multiple Bram Stoker Award and Dragon Award finalist Michaelbrent Collings brings you a horror that is all-too real… get your copy and find out what is truly MALIGNANT, today!


GRAB MALIGNANT BELOW… AND PREPARE FOR A NEW FACE OF FEAR.
Amazon US * Amazon Canada * Amazon UK * Amazon Australia
Amazon Germany * Amazon Netherlands * Amazon India * Amazon France
Grab a free book while you're here!
Just sign up and I'll send you a few freebies right away!
Become one of Michaelbrent's Minions for access to exclusive deals and freebies!
Series and short fiction by MbC
Below are some of Michaelbrent's bestselling series and short fiction. Whether you're looking for Legion, Sword, zombies, or love at the Baxter homestead... you've come to the right place!